More Photos On The Way.
Just waitin on the Pony Express ta git here.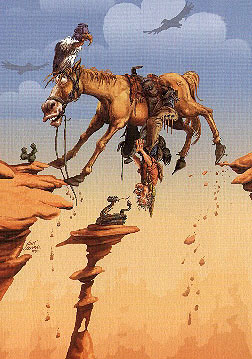 © Nate Owens artwork.
Country fun in our photo albums...
Check back often for new pics!
Roots Roosts:
The Little Red Hen
by Kim Ruehl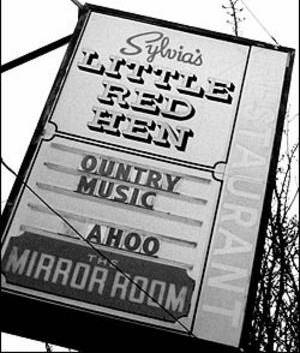 While the hipsters and city folks pick their folk, bluegrass and alt-country down on Ballard Avenue, the real Western Washington cowboys and cowgirls are sweating their hearts out on the dance floor at the Little Red Hen. For 40 years, the Greenlake bar has been sitting just off the main drag, around the corner from Gregg's Cycles, unassumingly quiet and nondescript from the outside. When it opened all those years ago, the LRH was just a restaurant and bar. It took them 20 years to start welcoming local country bands. But, since "around 18 to 20 years" ago, they've maintained a steady schedule featuring the best local country bands and artists—holding up the long tradition of country music in Seattle as the last remaining club dedicated entirely to the genre.

Manager Ron Shmerelson isn't afraid to brag about the bar he calls his second home. "We've got all the top local country bands. We were voted top bar in town for pick-ups. Picked best karaoke in the city in five different [lists]." When asked where he believes most of their clientele comes from, Shmerelson says he believes they're serving a community of country music fans that stretches from Tacoma to Everett, although people come in from far and wide. "I've taken reservations from Denmark," he says. "With the website up, we get people from all over the world."

Walk in the door, and you're instantly transported outside the city limits, or so it feels. Cowboy hats are only outnumbered by cowboy boots. It's a gritty, down-home, rural feeling that separates the Little Red Hen from every other bar in town that welcomes Americana artists. While some of the house bands pepper their sets with blues and southern rock jams, most of the music that takes place here is classic-style country music—the kind that makes you want to grab a partner and own the floor. For all the city folks who aren't as familiar with the Texas two-step and other styles, country dancing lessons are free every Sunday, Monday, and Tuesday night.

Six nights a week, stellar live bands rock the place with old school country classics—Cash to Acuff, Haggard to Hank, Sr., occasional originals—giving the dancers an opportunity to put their new moves to work.